The 2022 Healthcare Expo Taiwan was grandly opened on December 1. The 4-day exhibition gathered more than 2,000 medical technology-related companies from home and abroad to participate in the exhibition, and also attracted more than 10,000 people to visit the grand event. It can be called the largest fair in Taiwan after the epidemic. hpb also exhibited the latest smart healthcare solution in this fair – hpb Ezcaring P1, combined with exclusive AI image detection and PPS technology, under the premise of both privacy, it perfectly realizes remote healthcare.
hpb was located at K006, 1st Floor, Nangang Exhibition Hall. The perfect exhibition plan allowed visitors to have a glimpse of hpb's response solutions in the rapidly growing smart medical industry. The technology display attracted the visitors to listen to the detailed explanation. Oscar Hsu, the chairman of hpb, and Dr. Wang , CEO of the Joint Commission of Taiwan, also attended the fair and expressed their support in person.
In addition to various domestic nursing centers and health industry manufacturers, hpb has attracted many groups of overseas companies to consult, especially the core technology-PPS technology has been widely praised by foreign friends, and actively inquired about follow-up cooperation. hpb is also looking forward to establishing good business relationships with distributors from various countries, and targeting overseas market opportunities such as smart healthcare and remote healthcare at the beginning of the opening of the border.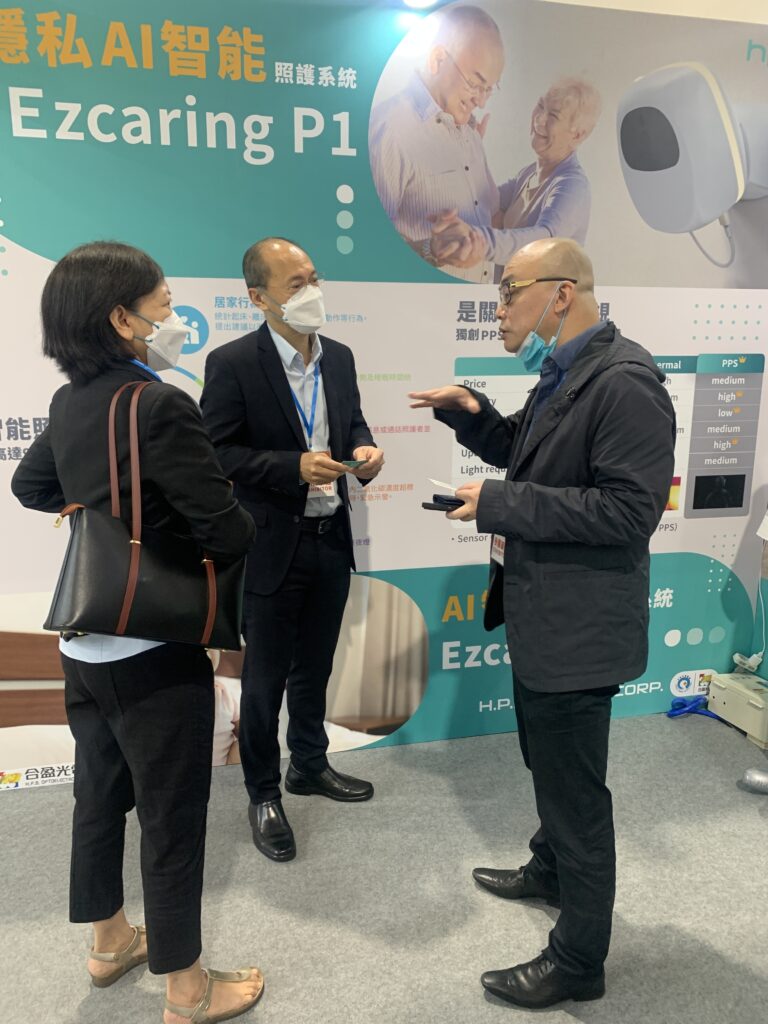 hpb, Healthcare of your Parents and Babies, continues to innovate various smart medical products, and establish a people-oriented, sustainable and kind corporate culture. Ezcaring P1 is currently the completest care system on the market. Feasibility tests have been conducted with several hospitals and have proven its effectiveness.
hpb Hi-Tech continues to recruit global partners.
Brand agents – promote products to the world together, become a world-class brand

Private label cooperation – continue to produce products and sale

ODM cooperation – provide design and production services
We look forward to friends with the same goal to contact us, and create a win-win situation together.
To learn more about hpb Hi-Tech, please email : [email protected]
HPB's world's first "high privacy AI caring system" was widely praised by domestic and foreign merchants at the 2022 Healthcare Expo Taiwan