The challenge of aging in indigenous communities : When culture and long-term care regulations clash, indigenous dementia care is lacking.
At the end of December 2021, Yunaw Sili (宋聖君), the 38-year-old director of the "Hanci Lokje Dicin (寒溪樂智據點)" in the Hanci tribe of Datong Township, Yilan County, along with Lapi Hayun (羅雨涵), a 22-year-old care manager, said goodbye to the last elderly dementia patient and closed the door of the dementia center that had only been in operation for 9 months.
Two or three years ago, a tribe member named Ba'ai (a pseudonym) started showing signs of dementia and was often seen wandering around the tribe. In March of last year, Yunaw Sili and several elders and family members made several trips down the mountain to Luodong City, a 30-minute drive away, to have Ba'ai diagnosed with moderate dementia. Ba'ai, along with two other elders with mild dementia, became the first students of the center. Lapi Hayun, who grew up in the Hanci tribe, taught the elderly dementia patients to sing Tayal folk songs and to weave traditional sashes as part of the delay disability program at the center. Although Ba'ai's hands were no longer as nimble, she was still able to complete the weaving slowly when she encountered familiar patterns, and her condition became relatively stable over the next few months.
However, at the end of the year, the Hanci Lokje Dicin center was closed due to failing evaluations, leaving Ba'ai's family in tears as they asked Lapi Hayun when the center would reopen. Lapi Hayun did not know how to answer. After the center closed, Ba'ai's condition deteriorated rapidly and she became incapacitated and incontinent. One month later, like other families in the tribe who could not afford to care for their loved ones, Ba'ai was forced to leave her tribe, where she had lived most of her life, and move into a long-term care facility down the mountain.
In the facility, Ba'ai's roommate was her relative, Telu (泰露), also from the Hanci tribe. Telu, who is 80 years old, has been living in the facility for three years due to dementia, and occasionally murmurs in her native language, "This is not my home, this is a flatlander's home…"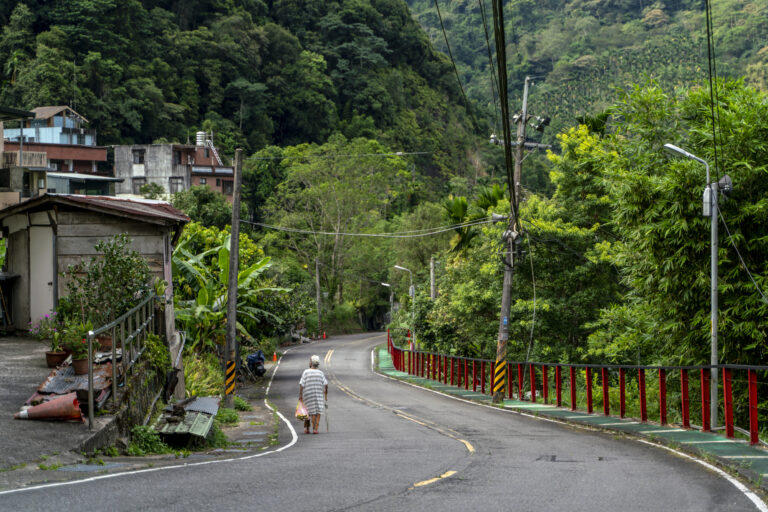 The pain of the Hanci tribe: Dementia patients' final journey ends up in a foreign institution.
Tai-lu was one of the first women in her tribe to advocate for elderly members to age in place within the tribe. Located at the foot of the Taiping Mountains, the Hanci tribe is the largest "front mountain" tribe in Datong Township, with about a thousand Atayal people residing there. The tribe's long-term care awareness developed very early. Fifteen years ago, when Long-Term Care 1.0 was about to be introduced, the Atayal spirit of mutual aid led the tribe to take a step ahead of the government. The Hanci-based Gang-Give Indigenous Sustainable Development Association (hereafter referred to as the Gang-Give Association) was established in 2007, and a team was formed to assist local elderly people. A few 50-60 year old "home care mothers" volunteered to clean and visit the elderly in their homes and also delivered meals. Tai-lu, who was a first-generation home care mother in the association, said, "We don't have a history of sending our elderly away!" Besu Piyas, a supervisor of the Gang-Give Association, explained that in the tribe's language, there is a saying, "ana musa inu ga, ini z'ngi isu ga Kangke no sure" (wherever you go, never forget that you are from Hanci), which reminds tribe members that human life is deeply connected to the land, and every person, like the branches and leaves of a tree, will eventually return to the soil to nourish the roots of the tribe.
However, when Tai-lu developed moderate dementia, she also became one of the elderly people who had to leave her tribe and go to a distant institution. For dementia patients in the tribe, it is increasingly difficult to follow their ancestral teachings in their later years.
Over the years, You Nao has watched as dementia patients are forced to be separated from their tribes, and deep sadness is written in his eyes.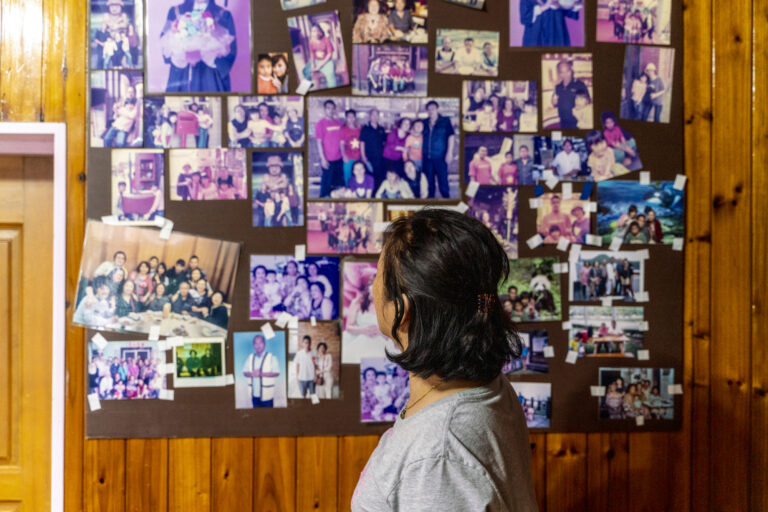 Entering the long-term care system has gradually become a constraint.
As Taiwan's long-term care policy developed, the discussion of the Long-term Care Services Act was in full swing in 2014. The government outlined a blueprint for "professionalizing" long-term care, setting standards for space, personnel, and other aspects, but this raised the threshold for practical implementation in indigenous communities. The Ganqian Association (崗給協會) found that the original indigenous home-based services in the tribe may have become "illegal" due to this change.
In the same year, the Ganqian Association attempted to transform the original services by transitioning to government projects. From a community care center to a long-term care alley station, several elderly people began to show signs of dementia one after another in the alley station in 2021. Among them, Buaai would often run out of the door during activities after developing dementia. Due to a lack of staff and experience in caring for dementia patients, the alley station gradually became unable to handle the situation. As a result, Younao sent Rabbi for dementia care training and applied to establish a dementia care center.
What's the difference between a "巷弄站" and a "失智據點"?
After the implementation of Long-Term Care 2.0 in 2017, the government classified long-term care facilities into three levels, A, B, and C. The C-level facility, called "Long-Term Care Neighborhood Stations" or "巷弄站," plays a frontline role in the community. It is subsidized by the government with one full-time care worker, along with volunteers from the community, to provide services such as communal meals, health promotion, and prevention of disabilities. It caters to healthy, frail, mildly disabled, or mildly demented elderly people, usually serving around 10 to 30 people.
In 2018, the government proposed the "Dementia Prevention and Care Policy Guidelines and Action Plan 2.0" and planned another type of facility called "Dementia Care Stations" or "失智據點." Like the 巷弄站, it is also a frontline facility in the community, but it targets only people with dementia and their caregivers. It serves those with suspected or mild dementia, and elderly people who have not been diagnosed with dementia for over six months will be referred back to the 巷弄站. Additionally, in order to meet the special needs of dementia patients, the number of cases accepted is smaller, with a recommended capacity of 6 to 15 people (3 to 8 people in remote areas), and staff at the station are required to take an additional 20-hour training course on dementia care.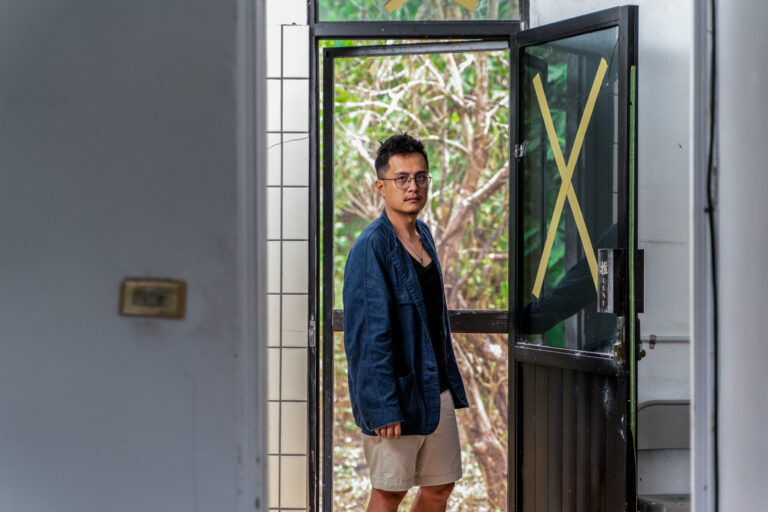 Original article from The Reporter
Text by Hong Qin-xuan
Photos by Zhang Jia-wei
Edited by Zhang Zi-wu;
Responsibility Editor Zhang Shi-yun.
The challenge of aging in indigenous communities