Elderly Trapped on Staircase in Narrow and Sloping Alley
95% of Keelung City is hilly terrain, and the narrow and crowded alleys due to early development are not conducive to the lives of elderly people living alone. Standing on the Keelung Tiger Mountain landmark viewing platform, you can overlook the entire Keelung port area. The houses below the landmark are densely packed, appearing romantic but in reality carrying a hint of melancholy.
Life is inconvenient but "I've gotten used to it."
Cars cannot enter, and the community is connected by a series of stairs. Signs remind people that the slope is for motorcycles and the right side is for pedestrians. In some sections, there are also reminders not to linger on the slope, as a motorcycle riding up from the bottom of the hill can suddenly appear and cause an accident.
Walking further into the alleys, even motorcycles have no way to pass through. Even the mailman has to get off his vehicle and walk to deliver mail. There are still many old and dilapidated houses in Keelung. 81-year-old Tsai Zheng Bao-Yu has lived alone for many years in such a place. Many young neighbors found it inconvenient and moved out, even her grandson wanted to take her to live with him years ago, but she refused, saying she was used to living there.
Pointing to a photo of her grandson on the wall, Tsai Zheng Bao-Yu couldn't help feeling sad. She said her husband had passed away, both sons had also died, and her only grandson had passed away too. She had lost them all. It was unfair that the old ones didn't die and the young ones did. She was left with only one daughter who had her own family to take care of. "It's all fate, we just take it day by day. Luckily, the house is our own."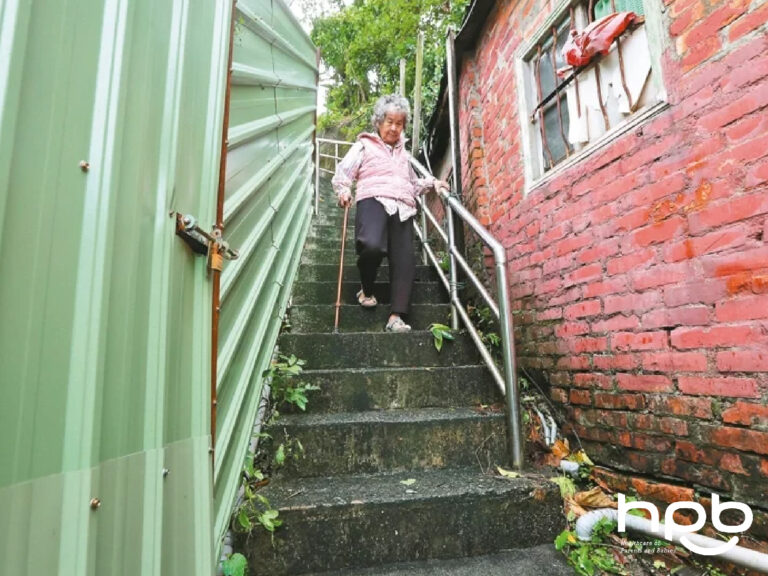 Difficult to visit neighbors, asking neighbors to buy groceries.
Ms. Tsai Zheng Bao-yu said that after her knee replacement surgery, she had difficulty walking and needed to use crutches when going out. She was afraid of falling on rainy days and dared not go out, but she slipped and fell in her own kitchen, spilling the hot food she was holding all over the floor. She sat there stunned for a while before slowly climbing the wall to stand up. She said with lingering fear that if she had died, no one would have known.
Living alone, she would turn on the TV as soon as she woke up and cook for herself when she was hungry. When the food ran out, she would call the boss of the No. 6 Pier vegetable stand and ask him to deliver vegetables, fish, and meat to her home, or call her neighbors to help her buy them. When she needed to pay or run errands, she would slowly climb the stairs for 20 minutes to reach Jianmin Street to call a taxi.
After the fall, the range of movement is limited to three meters.
The Tai Ping Ching Niao Bookstore, which was renovated from Tai Ping Elementary School, has become a popular tourist attraction in Keelung in recent years. Living on the hillside, the nearly ninety-year-old "Tai Ping Ching Niao" grandmother would even guide lost tourists on how to get there. She said the Tai Ping Ching Niao Bookstore is very beautiful and lively.
The grandmother said she has been living here for more than fifty years. Her husband passed away almost thirty years ago, and the house was left by him. She lives alone, and four years ago, she fell severely while pouring rice water to cook porridge one morning. After recovering from the injury, she dared not go out anymore, afraid of falling again. Her activity range is only three meters from the door, which makes it inconvenient and helpless for her. Fortunately, neighbors help her buy groceries.
According to the data from the Keelung City Social Affairs Bureau, there are 1,214 elderly people who need care and support, such as Cai Zheng Bao Yu and the "Tai Ping Ching Niao" grandmother. They are trapped in old apartments and long staircases, just like many other solitary elderly people in urban areas in Taiwan, living like on a deserted island despite being in a bustling city. Who will solve this challenge?
Elderly Trapped on Staircase in Narrow and Sloping Alley